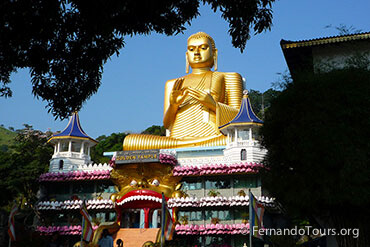 Dambulla Cave Temple / The Golden Temple of Dambulla / The Royal Rock Temple, is considered as one of the ancient Buddhist temples in Sri Lanka, and has been declared a UNESCO World Heritage Site. The buddhist cave temple is established in the 3rd century B.C. and occupied continuously to this day.
It is home to the World's most acclaimed Cave complex of magnificent Buddha Images and Rock Paintings of vivid colours and shapes constructed and painted from around 2nd Century BC (Anuradhapura era) and continued up to the Kandyan era of the 18th Century.
Sinhalese people call it as 'Dambulu Gala' (Dambulla Rock) and the temple is called as the 'Rangiri Dambulu Viharaya' (Golden Rock Dambulla Temple).
From the temple there is a nice view and lots af cheeky monkeys.
Please remember to wear appropriate clothing for temple visits (shoulders and legs covered), and bring socks, the ground might be very hot and You will be leaving Your shoes outside.
Please note there is an entrance fee when visiting Dambulla Cave Temple.