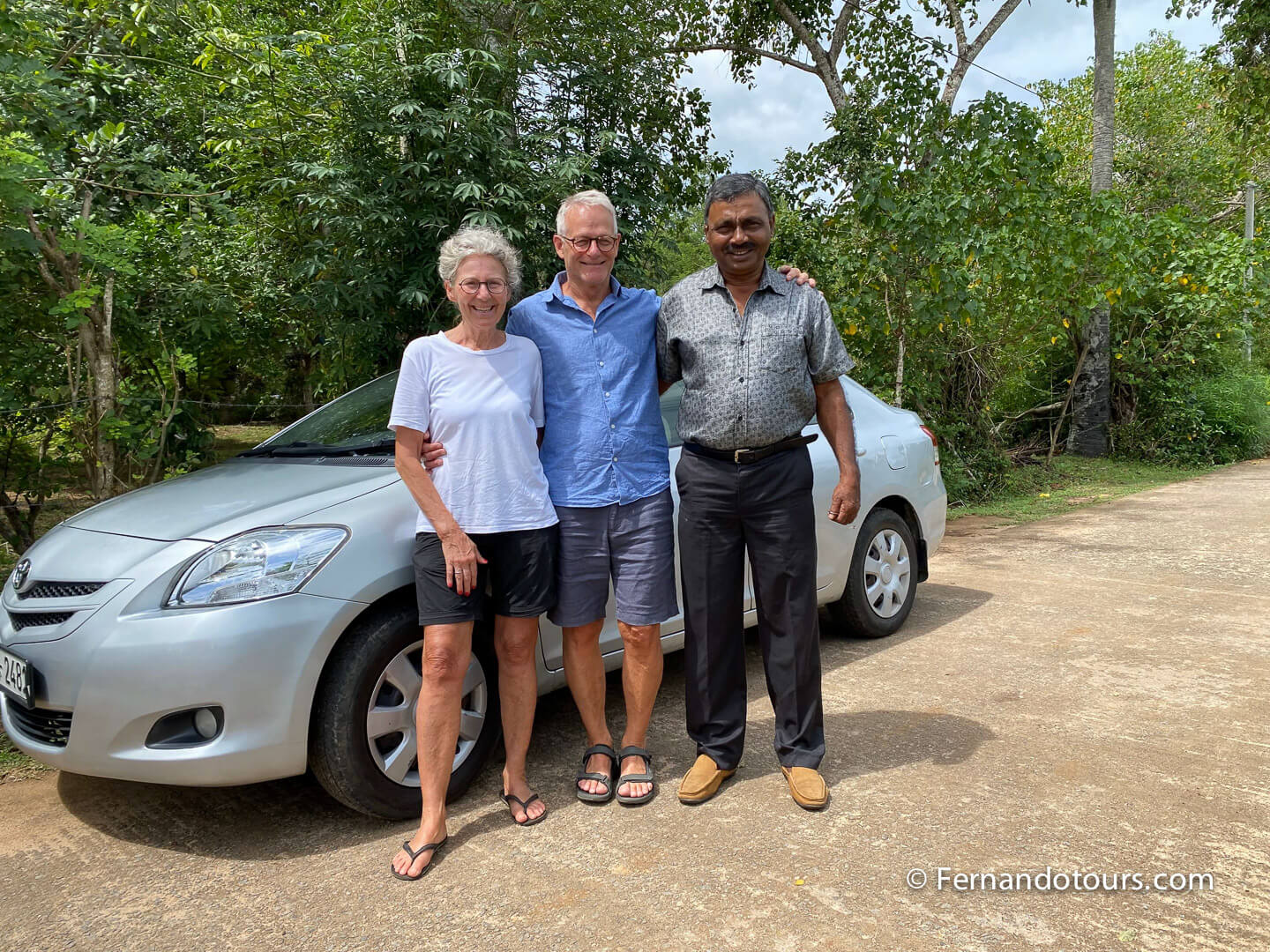 Jytte and Steen from Denmark
We had a nice round trip with our driver, Lal Antony.
Lal became part of our family on this trip.
Large family from Denmark
Photo from Negombo with driver Geet, Mr. Fernando and little Dimitri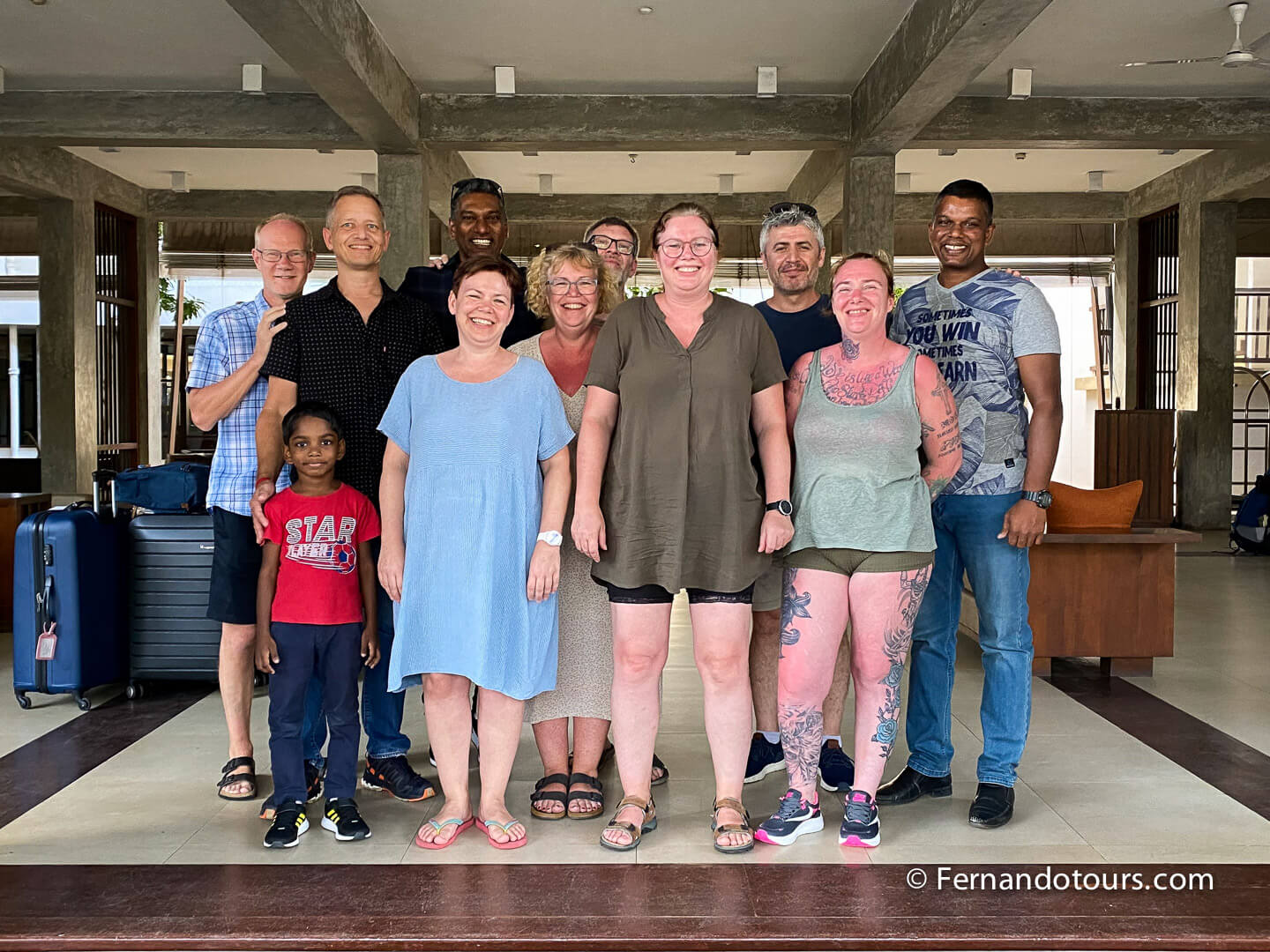 Lotte from Denmark
Ashane was a good, safe driver, a knowledgeable guide and a kind and happy person to be with.
Sabrina from Denmark
The tour was enjoyable and made us see things in Sri Lanka we could not have seen on our own.
Flexible and well planned.
Thanks for making our stay awesome.
McKenna from Denmark
Tyronne is a fantastic driver & guide!
Thank you!
Daniel from Denmark
Found Fernando Tours on Danish blogs.
We have been very happy with Subashana as our guide and driver for 7 days.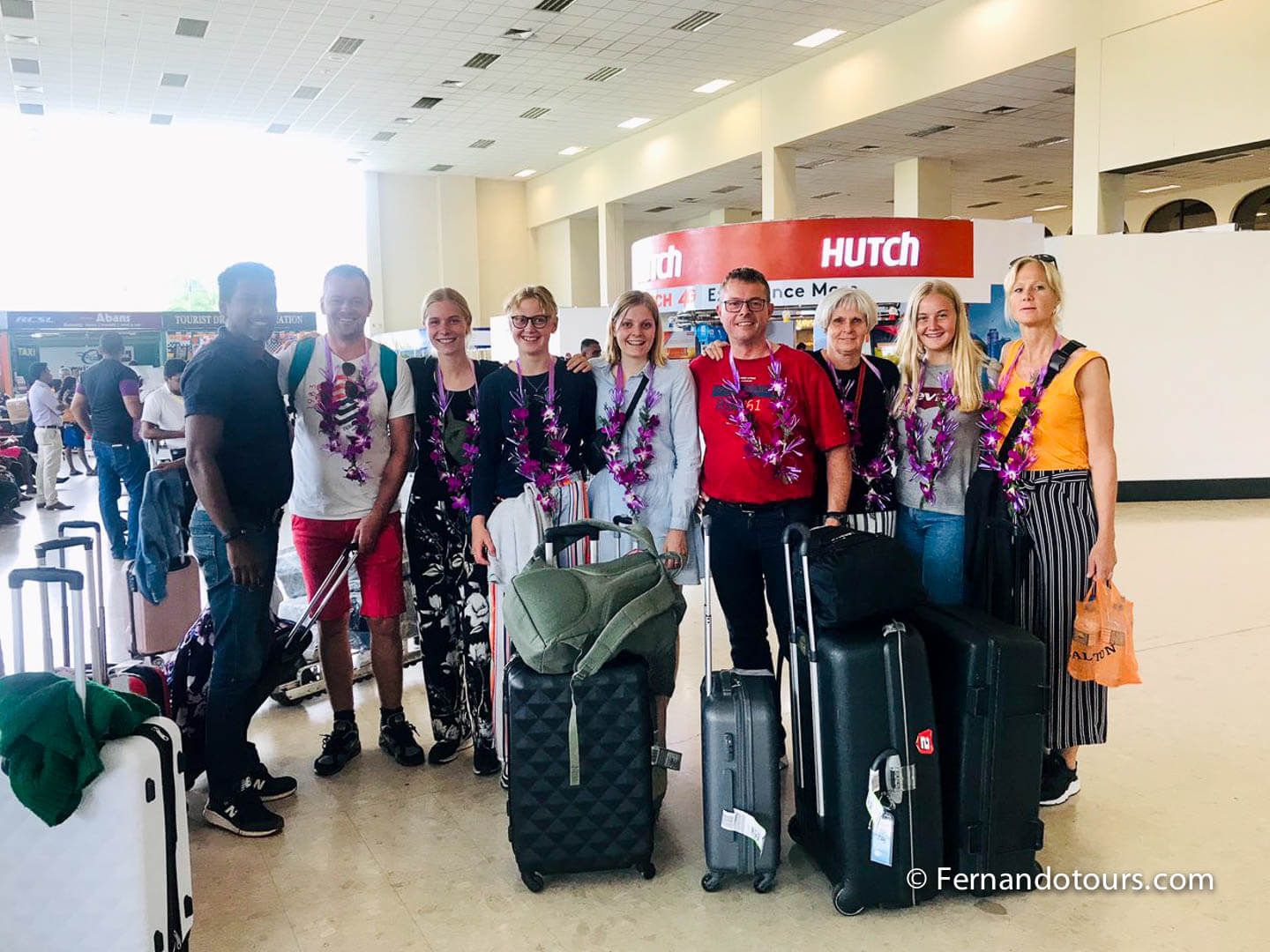 Family from Denmark
This big happy family has just arrived in Sri Lanka. They have traveled all the way from Denmark. And now they are going on a tour with Fernando Tours.
After the crisis in Sri Lanka, we are so happy to great new guests at the airport.
We hope you will enjoy your holiday here!
Hans Peder from Denmark
Having Rukshan as a driver is the best way to visit Sri Lanka. Rukshanis very friendly and knows a lot about the island and all the places we were visiting.
I can only highly recommend Fernando Tours.
Our next visit to Sri Lanka will for sure include Fernando Tours and Rukshan.
Per from Denmark
Mr. Sarath is outstanding as a driver and a guide. We will recommend him to anyone.
He is kind, punctual and knows all corners of Sri Lanka.
We appreciate his concern for our kids, our safety and general well being,
Maria from Denmark
I would recommend everyone to travel with a Fernando Tours driver/guide in Sri Lanka.
It's convenient and a much better and safe way to see as much as possible of this beautiful country.
Ronny from Denmark
A very good trip. We saw all the main things in just seven days. Sri Lanka is a beautiful country with a lot of different nature.
Antony has been a great driver and guide.
Thank you!
Christina from Denmark
Thank you Lal for a wonderful holiday.
We are very pleased with you and I think Sebastian will miss his new friend.
See you again in a couple of years – Then we will explore the north and east.
Cédric from France
We had a great time in Sri Lanka. Organizing this journey with Fernando Tours was a good decision.
Mister Antony is a fantastic and experienced driver.
We have been through the whole country within 6 days!
Every location we have been was awesome. I wish we would have two more days to relax and enjoy some places even more.
The food was amazing and the hospitality in Sri Lanka very nice.
Claudia from Australia
Wonderful experience!
Knowledgeable, kind and attentive. It made transport around Sri Lanka easy and very enjoyable.
Our driver also knew all the best local snack stops.
Unforgetable week.
Thank you!!
Is it safe to travel Sri Lanka?
Listen to what Cedric from France and Phichit from Thailand has to say, when explaining how it feels to travel with Fernando Tours in Sri Lanka June 2019.
Nikolaj from Denmark
Hi Fernando tours,
The only correct way to go vacation in Sri lanka is to use Fernando tours.
We got more than we expected and this makes our tour the best ever.
The guide and driver is superb, they know everything. Very good guide.
We give 5 stars to Fernando tours.
Dean from Canada
We had a wonderful time with Lal Antony. He was very alternative and thoughtful person.
He is a safe driver and also very knowledgeable.
We recommend Fernando Tours for others.
Fabio & Valentina from Italy
We had a great honeymoon. Our driver makes us feel always comfortable and safe, giving you precious trips and telling in advance what we need. The hotels choice is good and we had no problem of booking.
Fernando Tours went besides our expectation.
Very well done!!






Group of 33 people from Israel
From the first time we saw Fernando we knew we got one of the best tourist guides in Sri Lanka.
Martin from Denmark
Antony was good company on our tour. His driving was comfortable and safe.
Antony was good with our kids and understood our needs. He suggested a change our tour which we followed. It was success.
We highly recommend Antony and Fernando Tours.
Farhanah from Singapore
Thanks for being flexible and accommodating to our requests.
We had a pleasant stay in Sri Lanka.
Nanna & Michael from Denmark
Our honeymoon and family vacation (we travelled with 2 small kids – aged 4 and 1) wouldn't have been the same without our kind driver Janaka.
We felt safe in the van. It provided our kids peace of mind to travel in the same van, as we moved so much around during our holiday.
Janaka became our friend, he showed us the country, were extremely helpful and honest and at the same time he gave us the space, privacy and calmness we needed as a family.
Our 1 year old son became very fond of him – he cried after him every time he left us – and we even let Janaka watch after our son while we had a 1 hour massage (a massage that Janaka recommended us). Nice with some adult-time – as it was our honeymoon.
The illustrative tour plan provided by Fernando Tours where great for matching of expectations and good to have during the tour.
It was the best holiday. THANK YOU!
Nanna & Michael from Denmark
Michelle from Austraila
Rukshan was an excellent, punctual driver.
He has been very friendly and knowledgeable and always willing to help to us.
Me and my friend definitely recommend Rukshan and Fernando Tours for any future tours.
Anker from Denmark
Thank you for all your help with the police and ambassade address.
Big help Rishab gave us with use of telephone and also yours back and calls saved us.
Thank you very much for everything.
Johanne from Denmark
Thanks to Awishka, Jayan and Fernando Tours, for creating the perfect vacation for us.
Comment to the hotel rooms: Some of them added free wifi, but it did not work.
Johanne from Denmark
Jytte from Denmark
Very friendly driver + service minded.
Great choice of restaurants.
Overall very satisfied with the driver and the vehicle.
Very happy with rapid correspondence from the office.
Jytte from Denmark
Fie & Nicolai from Denmark
Very good trip and a lovely driver.
Easy communication with quick responding before the trip, from Denmark via email.
Some of the rooms were not so good due to noise and damp (smelly) and unfortunately an overbooking, but nice with a dinner as a compensation.
Fie & Nicolai from Copenhagen, Denmark
Martin from Denmark
Hi Nadeeshani & Fernando Tours,
We had a very good trip in Sri Lanka and was very satisfied with our driver Gihan ☺️
Have a nice weekend!
Martin
Marlene & Thomas from Denmark
Dear Rukshan (& Fernando Tours)
Thank you for an excellent week as our driver here in Sri Lanka.
You have truly made our week very pleasant. You work very professional, always give the best service and have had an excellent understanding of our needs. We have very much appreciated your flexibility during the week and in general just hanging out with you. You are a really nice person and you have shared many insights of your culture which have given us a great in depth knowledge about Sri Lankan culture. All this has contributed to an excellent experience traveling around Sri Lanka with you.
Our overall impression of the service you and Fernando Tours have provided for us is that it has exceeded our expectation by far.
Thank you!
Best regards, Thomas & Marlene
Lisbeth from Denmark
Dear Fernando Tours,
We had a great trip in Sri Lanka and with Antony!
The hotels you had picked out for us were all very good and Anthony managed to change one of the rooms due to very loud noise from the street.
Despite the fact that traffic is very busy at Sri Lanka and we think that people drive a bit dangerous, then we felt confident with Anthony as our driver. And our daughter who (among other things) is afraid of driving in the mountains, was also ok.
So, thank all of you for helping us to a great vacation in your wonderful country!
Kind Regards, Lisbeth
Mette and Evert from Denmark
Jayan has a very good feeling about us and how we like to have it.
He knows all things about Sri Lanka and is very good to talk about everything, culture, politics, nature, history and food.
Important! He is a very good driver.
Best regards from Denmark
Mette & Evert
Sarah from Denmark
Thanks for a great vacation!
Nalin was a good guide, who made sure everything ran smoothly.
And he had great ideas for things we might like to do, that wasn't on the program, so we saw a lot of extra.
Sarah from Copenhagen, Denmark
Christina & Mark from Denmark
We had the nicest, kindest and very knowledgeable driver (Nalin) in Sri Lanka. He was always helpful and patient.
Nalin is a big plus for Fernando Tours.
We have been very happy with the program, thanks to Awishka, which has shown us many of the highlights of your BEAUTIFUL country.
We will come again! 🙂
Christina & Mark from Denmark
Christian from Denmark
Thank you very much. Jayan did an excellent job. I don't have anything negative to say about him.
On time, good guidance and polite and the vehicle was comfortable and clean. 5/5 stars – highly recommendable.
Kind regards Christian
Kiki from Denmark
Dear Fernando Tours,
Yes, indeed we were very happy with our tour with Ravi.
We will definitely recommend Fernando Tours to our friends and family 🙂
Thank you!
Kind regards, Kiki
Marianne from Denmark
Dear Fernando, It was perfekt!
Nuwan was a very good driver and guide, and we enjoyed the Tour very much, and we will certainly recommend him as a driver to others.
Best wishes from
Marianne
Nerea from Spain
Hi Nadeeshani,
Return has been hard… winter, cold, rain, working again. We cannot believe one week ago we were enjoying that Sri Lanka warm November!
We do enjoyed our tour: Lal was patient with our timetables (birds wake up too early), was supportive with our hotel requirements (40$ Maximum) and he made possible to make the most of our short time. We definitely wouldn't have been able of visiting all these places going our own. We really appreciate his help, his information about culture and customs, his sense of humor, even when english is not our language and, of course, some misunderstandings can happen.
Ain't no doubt about recommending my friends Fernando Tours if they travel to Sri Lanka: I think this is the best summary of our experience with you.
We hope Lal hadn't a bad experience with the Vasque Team.
Good luck and warm regards, Nerea
Anders from Denmark
Dear Fernando Tours,
We would like to thank you for a wonderful holiday.
We have had the most fantastic 2.5 weeks in your lovely country. It has been the most perfect trip, which to a very high degree has been due to Ranil, our super-professional driver. He has been absolutely fantastic! He has a wide knowledge of the country, he comes with suggestions to additional or alternative programme points, and he has been so good with our kids. He has a very big heart, and the kids adore and love him – with very good reason.
We cannot recommend Ranil sufficiently – he has been fundamental in our experience of a country that cannot be described but has to be experienced.
We had chosen to be accommodated in "Tourist Class" hotels, that mostly have been fine – only the hotels in Negombo and Nuwara Eliya were of a relatively poor standard.
All our most heartfelt thanks to Fernando Tours, and especially to Ranil.
Jakob from Denmark
Dear Fernando Tours / Nadeeshani
We had a wonderful tour and would definitely recommend friends to go to Sri Lanka and travel with Fernando tours.
Nevil was a great driver and friend!
Best regards Jakob
Mette from Denmark
Hi Fernando,
We had an awesome trip and hope so very much to come back.
Our driver was excellent and we will recommend him/your company to anyone.
Thank you so much 😉
Kind regards Mette
Karim from Italy
I wish to thank you on your excellent service and hospitality during our holiday in Sri Lanka.
Your patience in coping with our requests and demands is beyond our expectations.