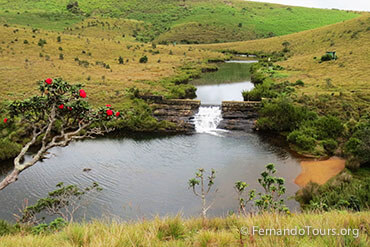 Horton Plains, the only National Park in Sri Lanka where you are allowed to walk around.
Normally we start the hike in the early morning with breakfast packages.
At World's End you can sit down and have your breakfast to the amazing view of the mountains.
Horton Plains is home to a small population of leopards but unfortunately they are rarely seen.
Tip! Wear your clothes in layers as it can be very cold in the early morning hours and become very hot when the sun comes out.
As the roads are in a very bad condition, we have to hire a jeep or a van to get to the Horton Plains National Park.
Please note there is an entrance fee to Horton Plains.