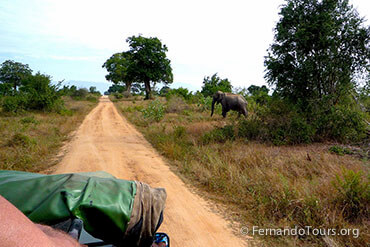 Udawalawe National Park offers the most reliable elephant spotting in Sri Lanka.
With around 500 wild elephants present, masses of birds and a good chance
for spotted deer, water buffaloes, wild boars and crocodiles.
There are a few leopards in this park, but they are rarely seen and we must be very lucky to spot them.
A jeep safari is the only way to enter Udawalawe National Park.
The jeep safari begins either in the early morning, or in the afternoon where the animals comes out of the bushes due to the falling temperature.
Close to Udawalawe National Park is The Elephant Transit Home wich we like very much at Fernando Tours.
Best time to visit: year-round
Please note there is an entrance fee to Udawalawe National Park, and some expenses for jeep hire.