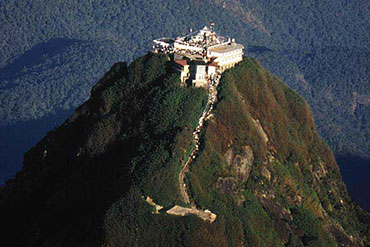 If you are in a good shape you can climb the 5.200 steps to the top of Adams Peak.
The place is known to be where Adam's first sets foot on earth after being cast out of heaven.
There are two tracks on the mountain leading to the Foot print af Adam, one called the Baba track & the other the Mama track, meaning Adam & Eve. The Mama track is easy and is the route by which the pilgrims return, but anyone who goes by that way is not considered to have made the pilgrimage at all. The Baba track is difficult & stiff climbing.
Fernando Tours recommends only the Mama track to our guest.
Climbing starts around midnight, so You will reach the top before sunrise.
Bring a sweater it can be very cold at the top, waiting for the sun to rise.
Adams Peak is locally known as Sri Pada.
Please note foreigners will have to pay a fee to climb Adam's Peak.