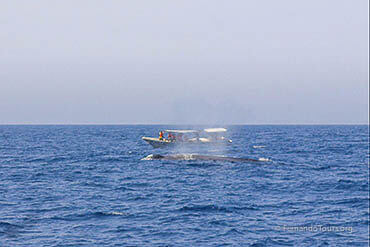 From the small town Mirissa on the South coast of Sri Lanka, we sail out in the early morning light to watch dolphins and whales in their natural environment.
Sri Lanka is home to the world's largest population of blue whales, the largest ever living animal on our planet.
But also killer whales, humpback whales, minke whales, sperm whales and fin whales can be watched in the Indian ocean, near to the srilankan coast line.
Bottle-nose dolphins, spinner dolphins and sea turtles are also among the interesting animals we can watch on these Dolphin & Whale Watching trips.
About the Whale Watching company
The company we use has a high security among the passengers. Life jackets for every size and age are supplied.
Crew is well educated with life saving certification as well as knowledge of the marine wildlife.
The personal space of the whales is respected.
Breakfast and bottled water are included in the price. Comfortable seats and western toilet facilities.
Arrival at the harbour at 6:30 AM. Departure time 7:00 AM, daily from September to May.
The voyage duration is approximately 3-5 hours.
Sea sick pills are provided as the Indian ocean can be pretty rough.