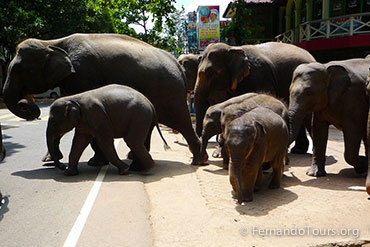 The foster home of young elephants of different age and size.
We see them being fed, bathe and play in the river.
These great animals have been found injured or left abandoned in the wilderness. Now they even breed in captivity.
Pinnawala Elephant Orphanage is the most well known Elephant Orphanage in Sri Lanka, but actually there is also an elephant orphanage close to Udawalawe National Park, The Elephant Transit Home where the young elephants are released into the wilde.
Please note there is an entrance fee to visit Pinnawala Elephant Orphanage.